Packages
Freedom Classic Hand Wash
Freedom Express
SUV + Pickups
Starting at $10
Exterior Wash
Hand Dry
Tire Shine
Prices may vary on vehicle condition
El Classic
SUV + Pickups
Starting at $25
Exterior Wash
Hand Dry
Tire Shine
Vacuum
Dash Wipe Down
Window Clean
Fragrance
Door Jamb Wipe Down
Prices may vary on vehicle condition
Additional Basic Services
Starting at $15
Wet Quick Wax $15 - $20
Dry Quick Wax $15 - $20
Leather / Vinyl Tx $15 - 20
Trim Shine $5 - 15
Rim Polish $20 - $60
Odor Eliminator $50
Under Fender Clean $10 - $20
Bug Removal $10 - $20
Prices may vary on vehicle condition
Exterior Wax SUV + Pickup
Starting at $60
El Classic Wash
Hand Wax
Past Wax add $10
Machine Wax add $25
Prices may vary on vehicle condition
Buffing SUV + Pickup
Starting at $100
El Classic Wash
Orbital or High Speed Machine
Prices may vary on vehicle condition
Deep Interior Clean Shampoo SUV + Pickup
Starting at $75
Freedom Express Wash
Deep Shampoo
Prices may vary on vehicle condition
Additional Car Detailing Services
Starting at $15
Leather & Vinyl Tx $15 / $20 SUV + Pickup
Odor Eliminator $50
Prices may vary on vehicle condition
Sport Package
1 Layer Sport Coating
Wash
Clay Bar
Compound / Polish
Outlast Sealants by 50 %
6 month Warranty
Bronze Package 2 layers
1 layer Coating 9H
1 Layer Top Coating
Paint Correction (Stage 1)
Coat Wheel Faces
2 Year Warranty
Silver Package 3 Layers
2 Layer of Coatings 9H
1 Layer Top Coating
1 Layer Sport Coating
Coat Wheel Faces
5 Year Warranty
Get the best deals & discounts
Submit your email address for future promotions
Freedom Classic
Serving all of Kissimmee, FL
Our hand car wash has been serving the community for more than 15 years, and those car enthusiasts know what it means to clean your automobile with the passion of a devotee. It's not just any machine to them; it's like a dress they need to clad themselves in and the better it looks, the better they feel.
When it comes to car wash, there are two options, automatic and hand car wash. For many people, a hand car wash is a popular option. Hand car wash is up close and personal and takes into account the customers' needs. The attention to detail given is bound to make you feel your money was well spent.
Have a look at our "Auto Detailing"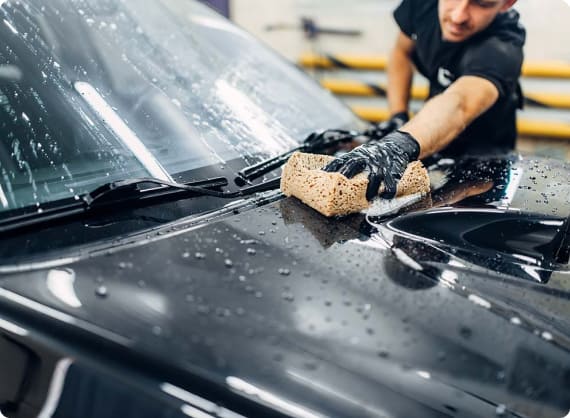 Area Served
Address
2313 Old Dixie Highway Kissimmee, FL 34744
Timing
Mon – Sat: 8AM – 5PM
Get in Touch with Us
Got a question or wish to schedule an appointment?